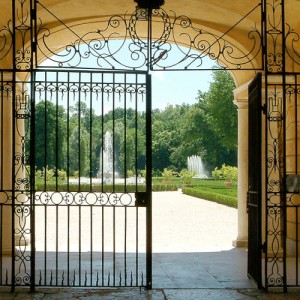 How to visit the Palace of Colorno from May 15th afternoon to September 19th 2021
Guided tour times at the Palace reservation required (only for the guided tour)
DECEMBER JANUARY FEBRUARY
From Tuesday to Friday only for groups (minimum 15 pax by reservation)
Saturday, Sunday and holidays at 10am, 11am, 3pm, 4pm and 5pm
MARCH AND NOVEMBER
From Tuesday to Friday at 11am and 3pm
Saturdays, Sundays and holidays at 10am, 11am, 3pm, 4pm and 5pm
APRIL, MAY, SEPTEMBER, OCTOBER
From Monday to Friday at 10am, 11.30am, 3pm and 4,30pm
Saturday at 10am, 11am, 3pm, 4pm and 5pm
Sunday at 10am, 11am, 12am 3pm, 4pm,  5pm, 6pm
JUNE JULY AUGUST
From Tuesday to Friday at 11am and 4pm
Saturdays, Sundays and holidays at 10am, 11am, 3pm, 4pm and 5pm
Entrance ticket: Exhibition + Guided tour of the Noble Floor, Duke Ferdinando's apartment and San Liborio's chapel
Full ticket € 10.00
Reduced ticket € 9.00
for children aged 7 to 18, university students with ID card, over 65, holders of the Passport of the Castles of the Duchy of Parma, Piacenza and Pontremoli, FAI members, Touring Club members with 1 companion
Reduced for groups € 8.00
adults / schools, consisting at least 15 people
Free ticket
Children from 0 to 6 years old, journalists with a valid card, disabled people with a companion, 2 teachers for every 15 students on an educational visit
Family ticket
2 adults + 1 child up to 14 years of age € 15.00
2 adults + 2 children up to 14 years of age € 20.00
2 adults + 3 children up to 14 years of age € 25.00
Exhibition The Porcelains of the Dukes of The Porcelains of the Dukes of Parma.
Masterpieces of the great 18th century European manufacturers
Exhibition opening hours (no need to book)
from May 15th in the afternoon to September 19th
from Tuesday to Friday from 10 to 13 and from 15 to 18
Saturday, Sunday and holidays from 10 to 19
Entrance ticket to visit exhibition only exhibition. The ticket office of the exhibition closes one hour earlier
Full ticket € 8.00
Reduced ticket € 7.00
for children aged 7 to 18, university students with ID card, over 65, holders of the Passport of the Castles of the Duchy of Parma, Piacenza and Pontremoli, FAI members, Touring Club members with 1 companion
Reduced for groups € 6.00
adults / schools, consisting of at least 15 people
Free ticket
Children from 0 to 6 years old, journalists with a valid card, disabled people with a companion, 2 teachers for every 15 pupils on an educational visit
Family ticket
2 adults + 1 child up to 14 years of age € 15.00
2 adults + 2 children up to 14 years of age € 20.00
2 adults + 3 children up to 14 years of age € 25.00
Tickets issued are not refunded
For the exhibition Buy the ticket online
METHOD OF VISIT FOR GROUPS AND SCHOOL CHILDREN
Reservations are required for groups and school groups and must be made at least 30 days before
day set for the visit. At the time of booking it is possible to agree on times other than those indicated.
The booking confirmation, by sending a specific signed form, must be sent by email or fax.
The composition of the groups will be at the sole discretion of the responsible staff
TERMS OF PAYMENT
Payment can be made in cash or via POS at the Palace Ticket Office or by bank transfer which must be made within 7 days from the date of the visit with transmission of a copy of the bank slip.
Any cancellations of a regularly booked visit will be subject to the payment of:
– No amount with at least 1 week notice
– 50% with notice up to 3 days
– The full amount 1 day before or without notice
SERVICES
Lift and disabled facilities. The Duke Ferdinand of Bourbon apartment is not accessible to disabled people if in a wheelchair
Bookshop
Guided tour in language (English, French, Spanish, German, Russian), by reservation
Laboratories and educational activities, by reservation
Guided tour of the Historic Garden, by reservation
Reggia di Colorno is PET friendly: small pets are allowed if held in the arms and with a special leash or in a suitable pet carrier. The ticket office does not provide dog sitting service.
IT IS FORBIDDEN
Using flash
Photographic and video services for commercial purposes without authorization
Introducing food and drink, smoking in museum spaces and offices
Bring bulky backpacks and bags during the visit (for school groups)
Bring umbrellas (to be deposited in the appropriate umbrella holders)
Leaning on, getting too close to works of art or touching furniture, upholstery, etc.
Use the mobile phone, speak loudly, run or disturb in any way during the visit
HOW TO GET
    By car From Milan and Bologna: A1 motorway – Parma exit – SS 343 direction Colorno
  From Genoa – La Spezia: A15 – A1 motorway towards Bologna – Parma exit – SS 343 towards Colorno
  From Cremona: SS 343 towards Casalmaggiore – Colorno
  From Mantua: SS 420 towards Sabbioneta – Casalmaggiore – Colorno
    By train Parma – Brescia line (www.trenitalia.it)
    By bus Departure every hour from the Parma railway station (www.tep.pr.it)
    By plane Parma "Giuseppe Verdi" Airport (parma-airport.it)
NOTE Piazza Garibaldi is closed to traffic on the days of:
– Tuesday and Friday from 06:00 to 14:00 for the Weekly Market
– on the occasion of any event
For information:
Tel 0521.312545 Fax 0521.521370
reggiadicolorno@provincia.parma.it